If you came across this article, chances are you are the owner or manager of an online store built on the BigCommerce platform. Despite the convenient and rich features of this platform, it cannot alone cover all the needs of its users. Fortunately, BigCommerce developers have understood this and have taken the opportunity to extend functionality through applications. You can go to the BigCommerce Apps Marketplace to find and easily install the right application that will enhance your online store.
The marketplace contains hundreds of apps scattered across more than fifteen categories. If you have a lot of free time you can find the app you need in the marketplace yourself. As well, many articles on the Internet have been written that are easy to find and read reviews of the most popular applications. But the apps mentioned in these articles are often the same ones, often selected simply by popularity.
In this article, I will shed some light on 10 BigCommerce apps that I think are useful, but overlooked by reviewers. You don't have to be a BigCommerce app developer to integrate and start using them in your store.
Table of Contents
BigCommerce Apps for Product Catalog Pages
Catalog pages and product pages are probably the most important places in your online store. Of course, the BigCommerce 3rd party apps listed below will help make these pages more useful to your customers. For example, if you have an apparel store or have products for which you need to display size charts, app #1 in our list, Prikid Size Charts, will be useful for you.
1. Prikid Size Charts
Each time you add a new product to your apparel store, you need to insert the size guides into the description, or make an image with it and add to the product images. This approach is very common but also boring and time-consuming. And you need to do it over and over again for each new product on the site.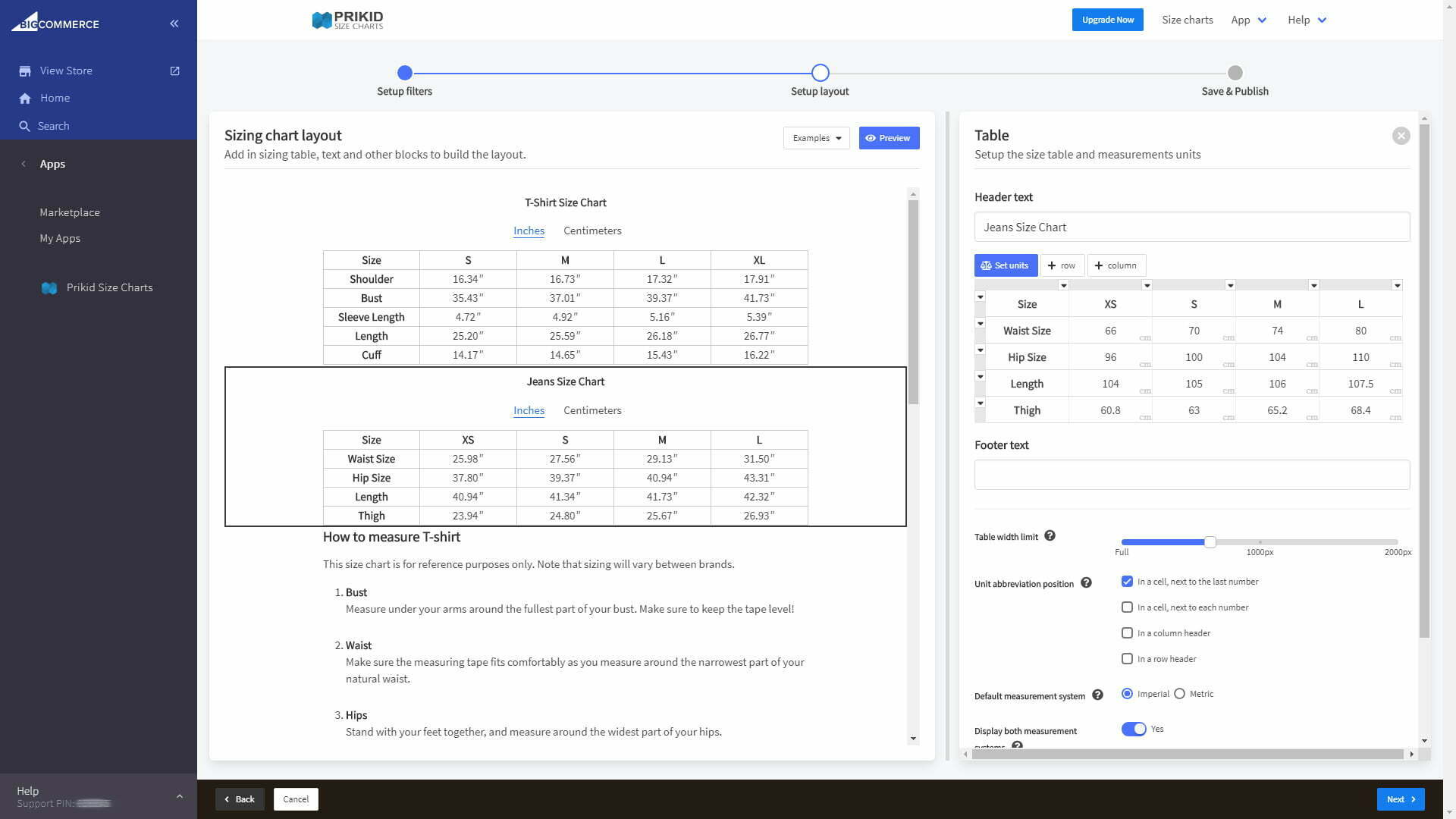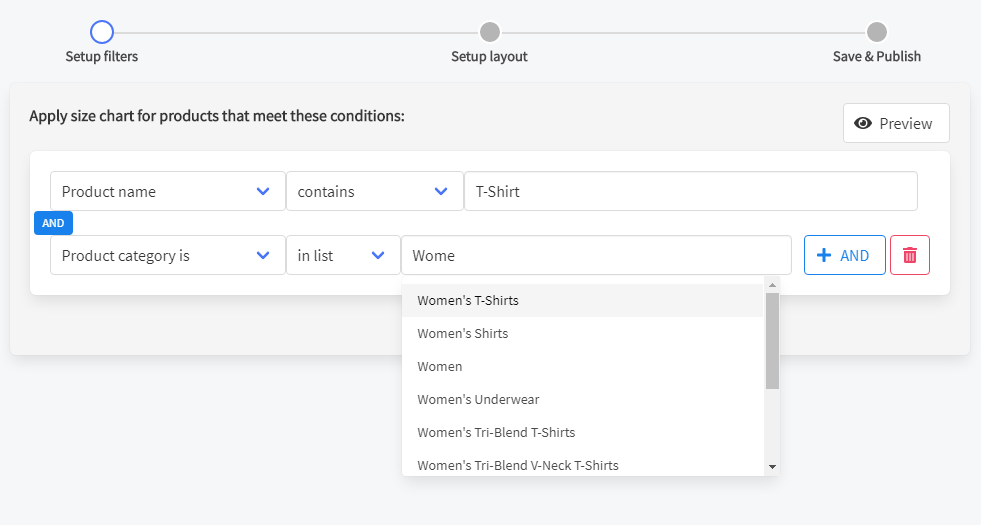 Prikid Size Charts app for BigCommerce lets you centrally create, assign, and manage size charts for your products. You can now assign a single-size table to product segments that have certain characteristics that meet your criteria.
The only place to manage size tables for all your store products.
All your size tables are created and managed from one place, you don't have to go into each product to insert or edit a size table.
One size chart – many products
You can bind one size chart to many products at once by specifying selection conditions such as a word in the product name, a specific category, or a brand. You can create conditions combinations for more subtle product segmentation.
Convenient visual size chart editor.
The Prikid Size Charts layout editor allows you to compose content from simple blocks such as text or images. The main block is a table, where you can configure measurement units and conversion, and insert content from spreadsheets like Excel.
Automatically add a popup window with a size chart content to your product pages.
A button or link will automatically appear on product pages for which size charts are created, and a popup window will appear by clicking on it.

Automatic conversion of units from metric to imperial and vice versa.
By default, all table blocks have a unit of system unit switch. For example, you can enter dimensions in inches, and they will be automatically converted to centimeters.
It works well both on Stencil and Blueprint-based BigCommerce themes. Definitely, this app is one of the most long-awaited through all BigCommerce marketplace apps.
2. Second Image On Hover
This app allows displaying the second product thumbnail image on mouse hover or touch event in mobiles or tablets. Second images will be displayed at these events for all products, directly in your product catalogs.
Offer your customers a faster way to show more about your products. You can use this functionality in all product catalogs, like product categories, search results, related products, etc. The Second Image On Hover app will take the second image from your product details. That means you can set a second image to show on hover.
If you offer products in more color variants, for example, you can show your customers different colors of each product in your catalogs, without going to the product page. That way, the customer sees a different view of the product and is tempted to go further into the product page.
3. Visual Merchandizer for BigCommerce
The Visual Merchandizer for BigCommerce app is built for any merchant using catalogs of up to 5000 products.
The app allows you to reorder your products with a simple drag-and-drop interface so your customers see the products you want them to see.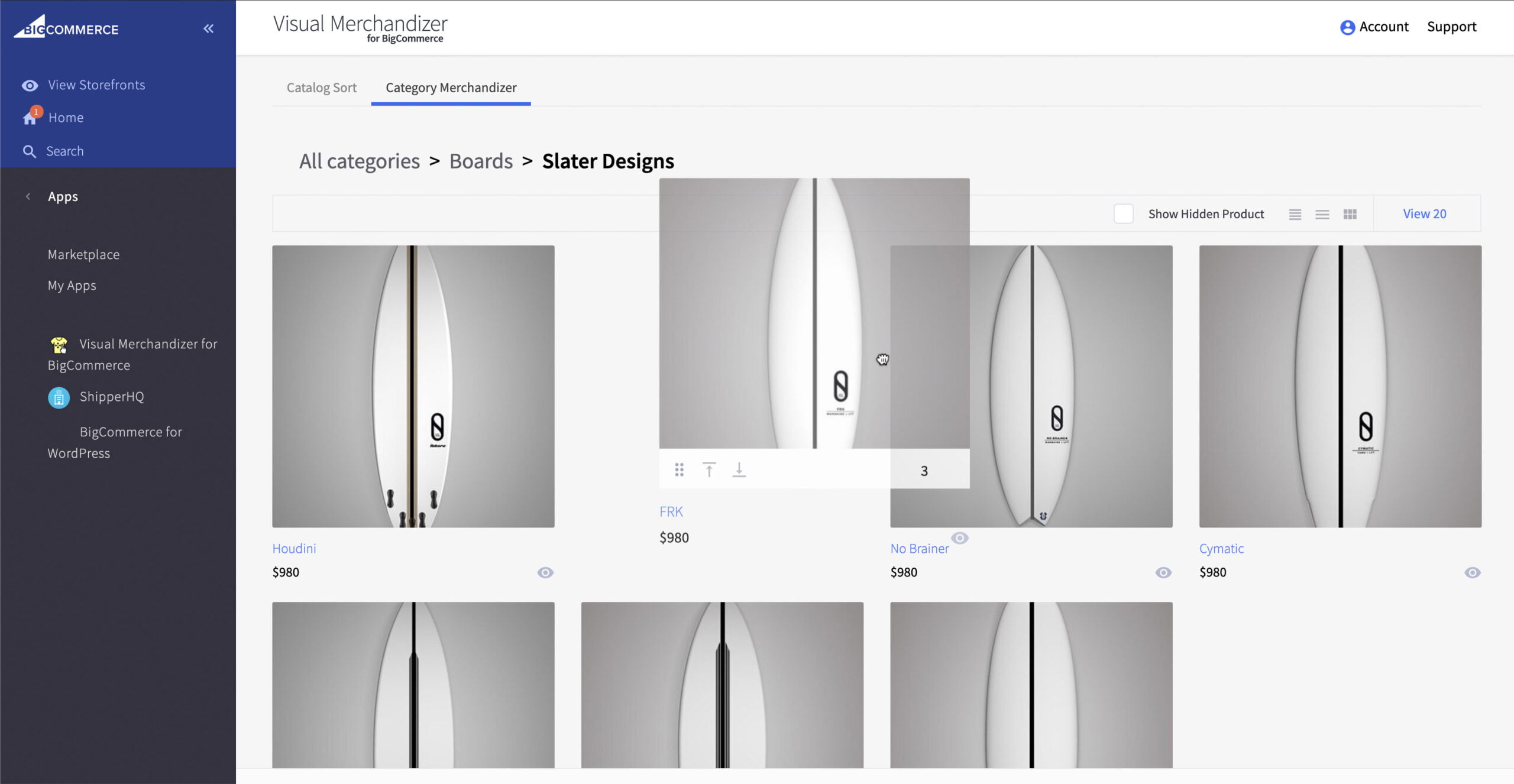 This app works natively with BigCommerce's Stencil theme engine. So you don't need to worry about your catalog being out of sync with another platform, or the complications of another platform serving content in your front end. It is all Stencil, simple!
Catalog Sort lets you reorder your products catalog-wide with no need for any customizations to your front-end theme. It's an easy way to manage the standard Sort Order field in the catalog.
Category Merchandizer lets you control the sort order of your products per category and subcategory.
Reorder products with:
Drag and drop interface
Promote to top button
Bury at the bottom button
Define a specific product position
Control product visibility
Category Merchandizer automatically injects a script into your Stencil theme so there is no setup to do. Simply Launch the app and start merchandising your website.
The app works seamlessly with themes built on Cornerstone. Custom themes can be specifically configured by our team on request.
4. Supr Product Badges & Labels
Product badges or product labels are added to online stores to call attention to special information about a product. Adding 'Best Seller' or 'Featured' badges to your product thumbnails on the category or collection pages helps these products stand out. Leading e-commerce sites, including Amazon, eBay, Etsy, Walmart, etc. all show product badges.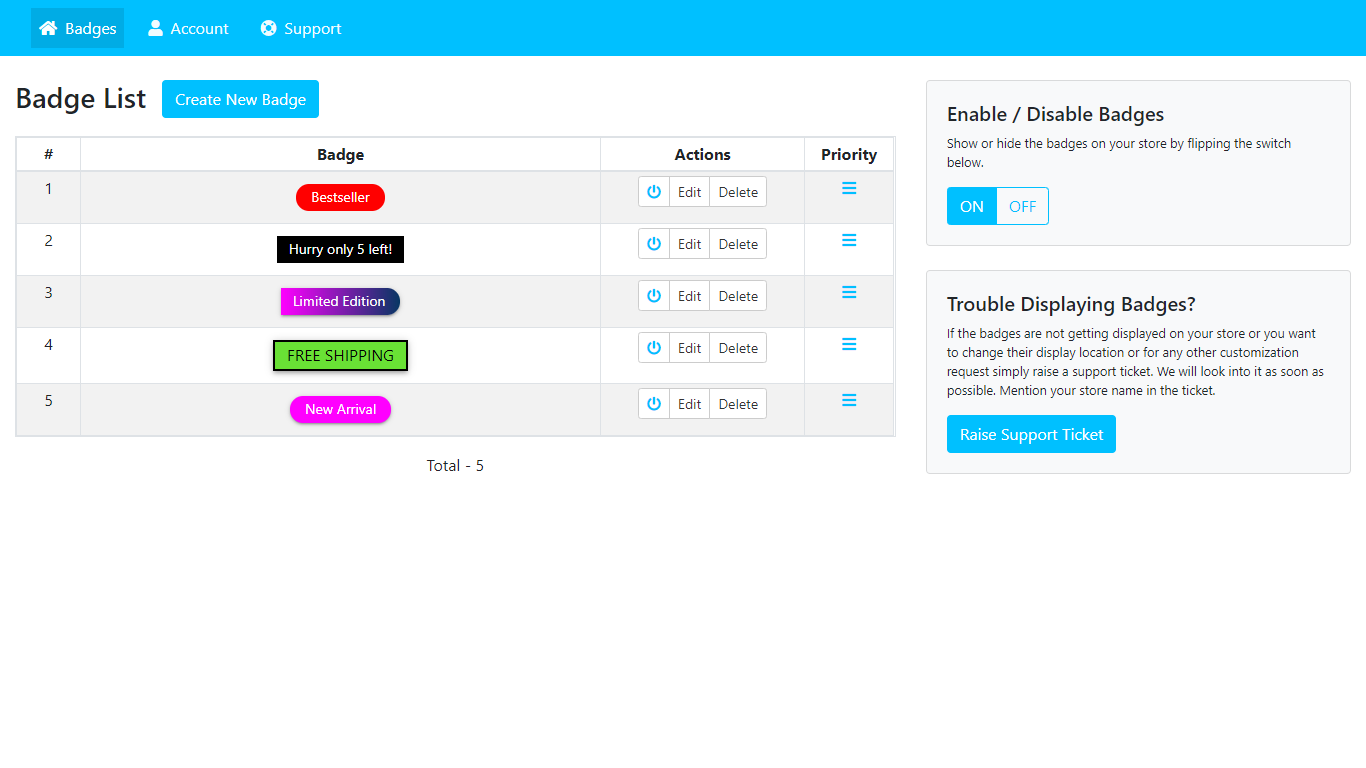 One reason product badges are so effective is they can be used to tap into psychological triggers such as scarcity, urgency, and social proof. Shoppers are more likely to buy an item that is almost sold out due to a fear of missing out. Likewise, shoppers that are on the fence can be swayed to buy based on the social proof of other shoppers.
Badges also help focus the eyes in the direction of a set of products you want to sell. For example, to highlight new products you can add a New Arrival badge. To highlight your best-selling products you could add a Best Seller label. You can also use badges to motivate shoppers such as an Only 3 Left badge to highlight scarcity.
The Product Badges and Labels app by Supr enables merchants to add product badges to their stores. You can use badges for any type of badge you can imagine. Here are a few ideas:
Products on Sale / Save $
Recently updated / New Arrivals
Seasonal / Black Friday
Bestselling
Limited edition / Exclusive / Members only
Editors choice / Hard to find / Staff picks
Deal of the day / Limited time offers / Clearance
Almost gone / Only X left
Out of stock / Pre-order / Back in stock
Free shipping
Wholesale / Bulk discounts
BigCommerce Apps for Entire Online Store
While browsing through the BigCommerce apps marketplace, I found three more interesting apps. One can help you to keep an eye on your website. Another one helps to boost store sales by increasing the buyer's interest, and a third one allows you to provide help to your customers with their purchases. All these BigCommerce plugins have very easy integration with your online store.
5. Uptime Monitor
The Uptime Monitor app by FreshClick gives you peace of mind while watching carefully over your website. It monitors Uptime, Downtime, and Load time and notify you if your BigCommerce store goes down for any reason, SSL Expiring, Domain Expiring, high abandoned carts, or low orders.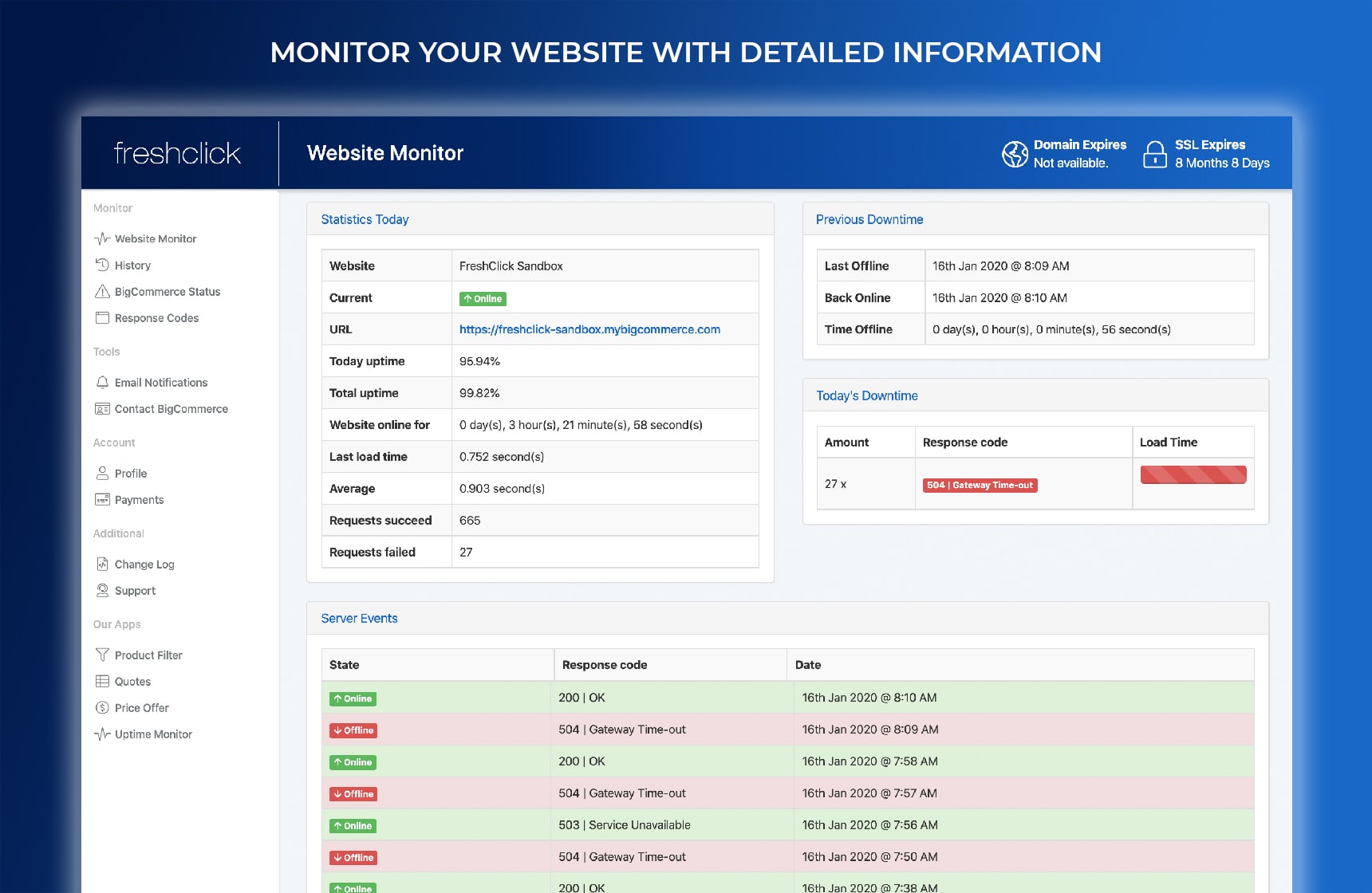 If your website goes down the app will send you an email and then another one when it's back up. There's nothing worse than not knowing your website is down and not generating revenue.
A high number of abandoned carts usually means there is an issue with completing checkout. You can configure how many abandoned carts are created in any number of hours until a notification is sent.
A low number of orders could mean there's an issue with completing checkout. You can configure the number of orders under a certain amount of hours and if it's triggered a notification is sent.
6. Recent Sales Popups
The Recent Sales Popups by Scarce.ly helps you build trust with customers. It shows your store is busy and more importantly – that people want your products.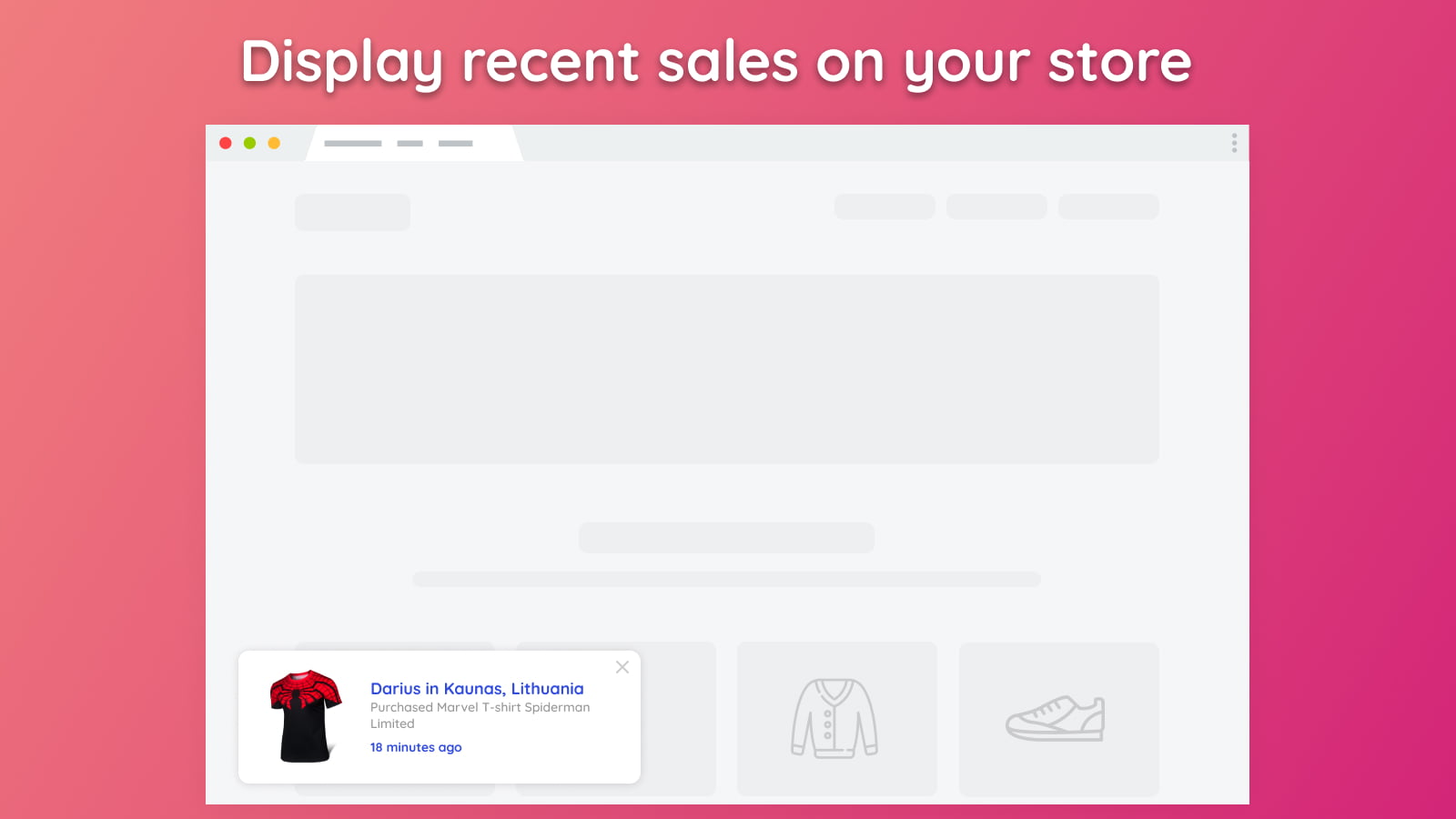 If you are just starting out, sales can be tough since potential buyers hesitate first-time purchases. The app shows your new customers that real people are making real purchases and eases the customers' minds
Stores using this BigCommerce app would convert more traffic simply by sharing details about customers who have purchased from your store.
You can see analytics on how your store visitors interact with notifications.
The customization is as simple as possible to get up and running. You can add custom flavor with colors, sizes, and CSS to complete your look. No coding is required!
7. Cart Monitor
This app allows store owners to explore and take over customers' carts. It empowers your business with the ability to assist your customers in adding the right items to their bags.
Merchants are able to modify a cart's content, update or delete items, adjust prices, and apply discounts. The Cart Monitor also allows you to create orders from cart data and complete the checkout on behalf of customers.
It all feels like you are helping your customers shop in your store!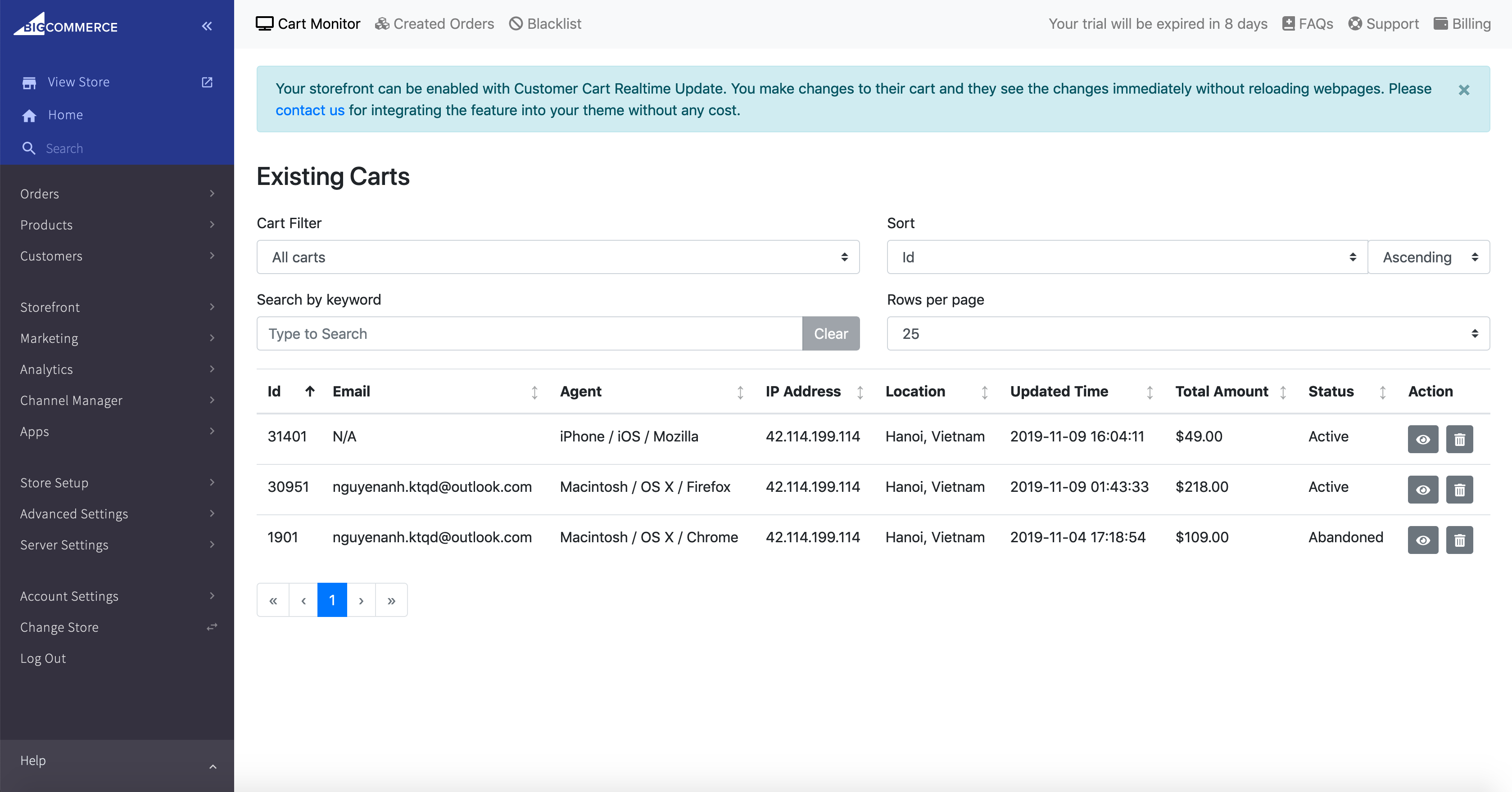 Realtime Cart Monitoring
Cart Monitor captures your customers' cart data in real time and shows you what is currently inside their bags.
Full Control of Carts
The store owner will be granted privileges to modify customers' cart content, add/change/remove cart items, as well as apply discounts to their carts. The changes are immediately applied to customers' carts.
Cart Location Tracking
It helps store owners locate their customers' carts easily by adding unique information to cart data, such as customer emails, browsing devices, operating systems, browsers, IP addresses, and even their physical locations.
Create Draft Carts
You are able to create new carts with applicable discounts and send activation links to your customers. The cart will be activated on their browsers upon clicking on the links.
Ability to Create Orders on behalf of your customers
Merchants can now create and complete checkout on behalf of their customers. Cart items can be converted into an Order and wait for the payment to be finished later.
BC Apps to Promote Your eCommerce Store
It's not enough to just create an online store, add products, and wait for sales. You also need to promote and advertise your products so that your potential customers may know about them. The following two BigCommerce apps are just designed to help you with this.
8. Social Media Facebook Poster
The Social Media Facebook Poster by Copilot helps you convert your passive Facebook Page audience into paying customers by consistently showcasing your product catalog.
How? After adding the app, it will import your store product catalog. Then, you can schedule recurring Facebook Page posts for bestsellers, new items, etc., or one-time posts for promotional offers. With this app, you'll never worry about your Page becoming stale for lack of content.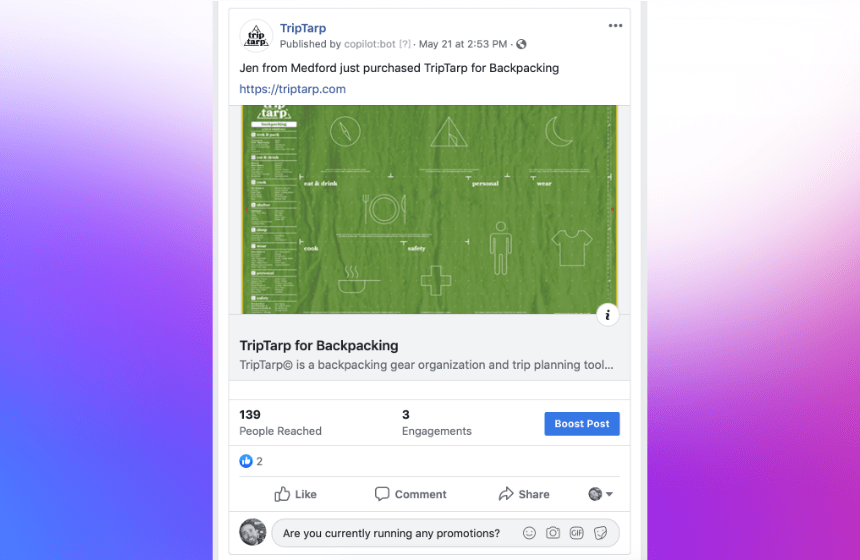 Looking to build a customer list for retargeting via Facebook? You can turn your Page posts into powerful lead magnets using automated responses.
When enabled, and someone comments on a post, the app will send as your Page a private message to that person. This is great if you want to offer incentives or promos to people who actively engage with the content you generate.
The app will queue up your orders and send one to your Facebook Page every 72 hours. Plus, with the social proof widget you can show off recent sales exclusively on your product pages to create an emotional trigger for your visitors – this is known as a fear of missing out.
9. Goaffpro
The Goaffpro app is a complete affiliate and influencer marketing solution for your e-commerce store. With this BigCommerce app, you can set up a custom-branded affiliate portal for your online store in less than 5 minutes.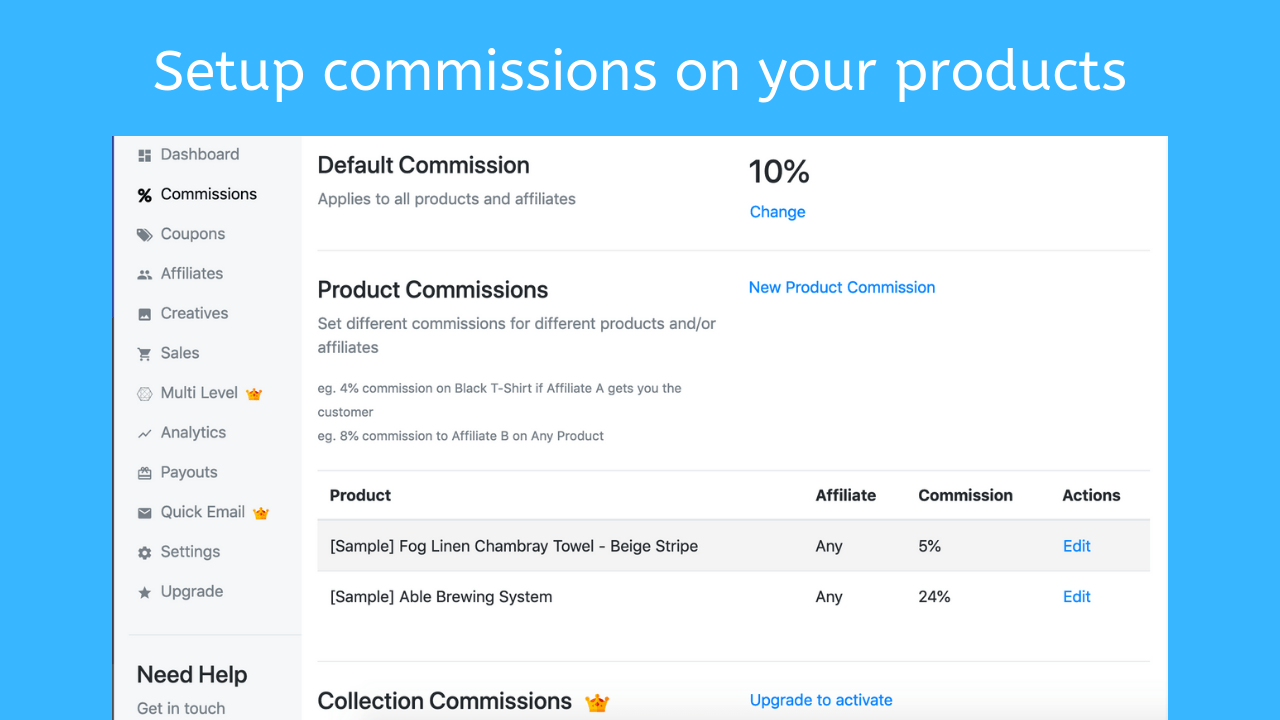 Your customers are given a custom-branded affiliate portal to register and become an affiliate. After registration, they are provided with a referral link which they use to promote your products on their blog, Instagram, etc.
They are then rewarded for any purchase made using their referral link
Your customers have a strong monetary incentive to share your products on social media.
You get more customers who otherwise would not have known of your products. Also with every shared link, your store's visibility and popularity increase, which in turn increases organic visits.
10. At your choice!
The 10 app is your choice. Please, write in the comments what app you recommend and why.
BigCommerce Apps empower your online business to grow
On the one hand, BigCommerce apps are expanding the functionality of your online store. On the other hand, they help you automate the functions you usually have to do manually. This saves you valuable time and certainly helps you grow your online business faster.
Search, install, try, and determine whether or not these apps are right for you. And don't dwell on top-end applications. Often the lesser-known apps have very useful functionality for little money.